Winter has certainly come to central Victoria. The leaves are changing colour and dropping from the tree's, you can smell the burning wood from the open fire places.
Bendigo is a beautiful place to be in the winter.
The minute you step through the doors of The Woodhouse you can feel the warmth of the open fire place and smell the delicious smokiness of the Red Gum grill.
The wonderful flavour of one of our 11 black angus or wagyu cuts with one of our regions amazing reds its all here at The Woodhouse in winter.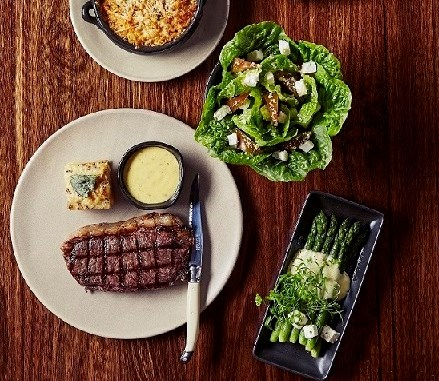 Winter Menu
Our Chef has add a few new dishes to our winter menu
Kiabella lamb shoulder "wood roasted" black barley, pomegranate, pinenuts and hibiscus, smoked labneh,salt bush.
who could go past paris mash in the winter
Paris mash with smashed peas, spinach, basil, lemon and parmesan oil
veal osso buco: Slow cooked White River milk fed veal, thyme, winter vegetables, peas, Paris mash, crisp pancetta, lemon and pinenut gremolata.
Rhubarb and hibiscus brioche pudding, white chocolate and strawberry ice cream, mascarpone, rhubarb syrup and vanilla fairy floss.
just to name a few..
New products introduce for the winter months.
On our charcuterie we have add 7 Hermanos jamon at $185kg it is an expensive item but our chef wants you to experience these fine products
Truffle is know in season which chef will be using in specials dishes during the season they will be coming from W.A and Canberra at different times.
Sher wagyu's Brisket which chef wood grills then slow cooks for 2 days its amazing.
Winter Beverages
Craft Beer menu has been extended with all  14 beers from Victoria.
Wolf Of The Willows "Homage" IPA Cheltenham, VIC 6.2%
Kaiju! Beer Metamorphosis IPA  Dandenong, VIC  6.7%
Hargreaves Hill Extra Special Bitter Yarra Glen, VIC  5.2%
Blackman's Arthur Smoked Porter Torquay, VIC  6.3%
just to name a few
Our cellar is building for those who want something special for their dining experience.
Just a few local reds on our list
Pondalowie Shiraz, 2007   Bendigo, VIC
Pondalowie Shiraz, 2008   Bendigo, VIC
Turners Crossing 'The Cut', 2007  Bendigo, VIC
Black Jack Shiraz, 2003    Harcourt, VIC
Black Jack Cabernet Merlot, 2001  Harcourt, VIC
Downing Estate Shiraz, 2006   Heathcote, VIC
Jasper Hill 'Georgia's Paddock', 2014  Heathcote, VIC
Jasper Hill 'Emily's Paddock', 2013  Heathcote, VIC
End of Financial Year events
With the end of the financial year just week's away now is the time to book in your EOFY lunch or dinner.  Boasting a 28 seated private room we can cater for your group.
Contact our Amy on 54438671 or email info@thewoodhouse.com.au